Who said that only body needs a workout?
Understanding your skin and the damage it has suffered from environmental factors such as sun and the natural aging process can be difficult.
Aged skin loses the tone and elasticity of youth, but recent technological developments can help you regain some of your skin's youthfulness, improve your skin texture and tone and reduce visible signs of age.
Time stops for no one, however, regardless of genetics or lifestyle, there are cosmetic procedures that can help improve the visible signs of aging by helping turn back the clock.
Laser Skin & Wellness Clinic developed a fast track skin fitness program to dramatically improve your complexion.
Skin Fitness Program consists of both an at home regimen as well as 10 in clinic sessions (5 of which are customised treatments) spaced approximately 2 weeks apart PLUS 4 weekly presor therapy lymph drainage to flush toxins
Session 1: Skin Analysis + Your Skin Care review.
Identifying primary/ secondary skin concerns. Goal setting. Designing customised treatment plan ¬PLUS lymph drainage presor
Session 2: Microdermarbrasion, Peel or Custom Clinical facial.
Polish away accumulated debris & make way for actives
Session 3: Medical Strengthening or Rehab Infusion facial.
Treat skin issues on cellular level ¬PLUS lymph drainage presor
Session 4: Brightening Medi facial (includes peel).
Enhance cellular turnover & improve skin tone, texture & elasticity
Session 5: IPL photo Rejuvenation.
Reduce sun damage, capillaries and fine lines for visible skin clarity; and to boost production of collagen & elastin ¬PLUS lymph drainage presor
Session 6: Customised Facial.
Lock in results PLUS presor
We can promise
You see results within days and
Overall results lasting for months *
To welcome you to the SKIN FITNESS program
GET 3 of these Sircuit Skin products pack absolutely FREE
Packs include: face wash or cleanser, scrub, day cream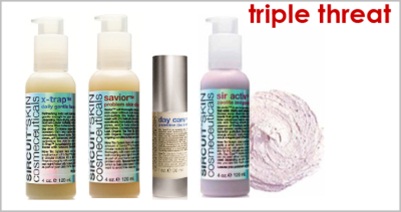 Do your skin a favour - stimulate its natural healing and strengthening abilities so it serves you longer
What is the deal
Skin Analysis
Custom Program
Clinical treatments x 5
Skin Care x 3 items
Detox presor x 4
Presor pants x 1
Ongoing support
Value $1581
Today $995
SAVE $ 586
Only 6 packages available
Why combine home care & in- clinic treatments?
The only way your skin will benefit from this type of fitness program is that it will be able to 'breath' easier and have greater access to vital nutrients and hydration.
Applying skin care products over the top of layers of dead skin that cannot absorb the products is simply a waste of money, time and effort.
NOTE:
No downtime for any of the in-clinic treatments
Offer valid anytime
Treatments can be changed for another treatment of equal value (except cosmetic tattoo or injectable services)
Offer valid only while stocks last
Offer cannot be shared between clients (even if they are twins)