Can you guess what is the new trend out there? Out there - around the world. The hottest new fashion accessory is a butt facial.
BUTT FACIAL is the new & exciting treatment that's on every-one's lips this season!
Here we are mentioned on the Ellen Show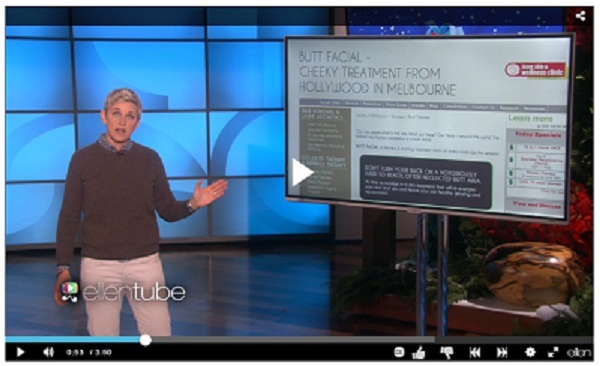 Don't turn your back on a notoriously hard to reach, often neglected butt area.
It's time to indulge in a skin treatment that will re-energise your soul and skin and leave your skin healthy, glowing and rejuvenated.

This intensive treatment takes about 50 minutes, costs only $129 and consists of these:
DEEP CLEANSE: target clogged pores, spots, congested areas (especially pronounced in the colder months) with Cleanser that is suitable for your skin type
BUFF & POLISH: with unique thermal mineral spring salts— dead surface cells will be just a scrub away
MUD MASK: your ASSet treated to a rich mineral mud mask which will bring out impurities & feed it nutrients
MASSAGE: with a beautiful holistic bamboo cream to complete the transformation to silky smooth bottom
You can add Cellulite MesoScience Treatment or Butt Tightening where the bum is tightened and reshaped
Recommending at least two sessions for results that last.
Try it now for a special price $129
Try our new Budget Facial our little pick me up treatments

Ask about special price on FACIAL2