LASER, SKIN AND WELLNESS CHADSTONE MELBOURNE SHOP
How to find
Ground floor Centre Office
Chadstone Shopping Centre, VIC 3148
For GPS: Enter 1341 Dandenong Road, East Malvern
p 03 - 9530 9800
Best Parking: Near new transport terminal, Myer, Coles or the banks

When inside shopping centre:
1. Find ALDI
2. Next door to ALDI there's a huge fruit shop called "Colonial Fruit Market"
3. Opposite the fruit store, you will see a corridor (there is a little sigh "LIFT")
4. You'll need to follow the corridor to the very end and you'll come out to the foyer where we are located, just before the medical suites.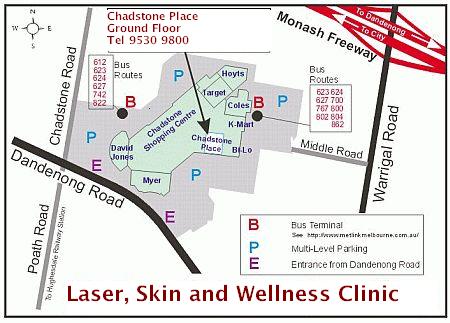 Do use FaceBook or Twitter? Add us to your profile and you can receive all of our specials and news update feeds directly into your account.
Start Local
Recommend Laser skin and wellness clinic on Start Local by clicking the image
24hr CALL BACK SERVICE
Don't forget to use our 24hr advisory call back line. This will ensure your maximum piece of mind, following each of your IPL hair removal session or skin rejuvenation treatment or any other service or treatment we conducted!
If you have any concerns or questions in an evening time or on public holiday there is no need to "wait for Monday" anymore! Simply call and leave your details. A registered clinician on duty will call you back.