Manscaping and other male body hair removal
Recent creation of terms "metrosexual" and "manscaping" has led to a changed landscape for men (finally, some may say!). Male body hair removal is now a perfectly acceptable beauty enhancement practice. Certain part of the male population have been dealing with these sorts of things for a long time, but only in the past few years "ordinary guys" decided to take part.
More and more Melbourne men of all ages have taken to "manscapping", with a survey showing increases in the number of male hair removal treatments nationwide.
Beauty conscious men are practicing IPL hair removal for various reasons. Many believe that it makes their body muscles more defined and help with a generally more aesthetically pleasing look.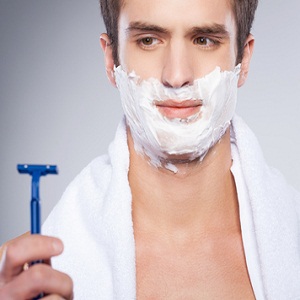 Reasons to remove hair
Lets take a look at some of the most common reasons (as reported by guys themselves) why man don't want body hair
"look buff in a singlet at the beach"
encouragement from partners and/or partners
getting rid of back hair as women find them "embarrassing"
removing body hair as it makes your chest, back and face look tidy and clean
exotic dancers – smoother, sexier, more appealing look
sports people and athletes - wanting to be hair free and avoid hassles of constantly shaving legs and backs
Methods to remove unwanted hair
There are many male body hair removal methods available. The method to be practiced depends up on the location, density, and color of the body hair to be removed.
For lasting results for male hair removal, it is advisable to visit specialised laser hair removal facility with a good reputation.
Back Hair Removal
There are many ways for back hair removal. Depilatory creams, plucking, waxing and shaving are commonly but are all very short term. Additionally using light-based method such as laser back hair removal is more affordable over time and produces long standing hair reduction. Electrolysis is less effective for larger areas, because of its high cost and longer time needed for each session (each follicle is treated individually).
Chest Hair removal
Shaving, waxing and using of depilatory creams are the most widely practiced methods for chest hair removal. All of these offer only short term remedies to the problem of unwanted hair growth. Chest Laser hair removal has become very popular these days. Laser hair removal takes only less than an hour to remove all chest hair and it can offer a lifelong reduction solution. Chest hair removal is essential when you want to bare your manly torso to all the beautiful ladies at the beach. While some women don't mind a bit of fur, many agree that hairy backs and chests on guys look untidy and even unclean.
Facial Hair Removal
For Melbourne men, facial hair removal starts at the cheeks and can extend to cover lip, chin and beard. It's quiet painful and a very clean shave is necessary before the procedure. Don't dry shave your face and use shaving cream before you begin to remove the hair from your face, this will help in giving you a better result. Another popular alternative is laser hair removal specially for the neck region and upper cheeks
Manscapping
Removing hair from bikini and pubic areas needs a special mention here. The skin on this area is more susceptible to irritation and infection. Careless shaving, waxing, sugaring and use of depilatory creams may cause problems in this area. You can use tweezers but it can be painful. Laser hair removal produces long lived reduction results and is very quick.
---
Like Melbourne Laser, Skin And Wellness Article?
Then share it with others at popular websites below: